Carmel is a small, picturesque village on the coast of California's Monterey Peninsula. It's a quaint spot with storybook cottages along its main street and is consistently rated among the top ten places to visit in the United States. In addition to its beachside access and stunning natural beauty, Carmel also offers a variety of upscale and boutique shops to peruse. So whether you're new to town and looking for stores nearby or a long-time local who wants to find somewhere new to explore, this is our list of the best places to shop in Carmel.
Shop along Ocean Avenue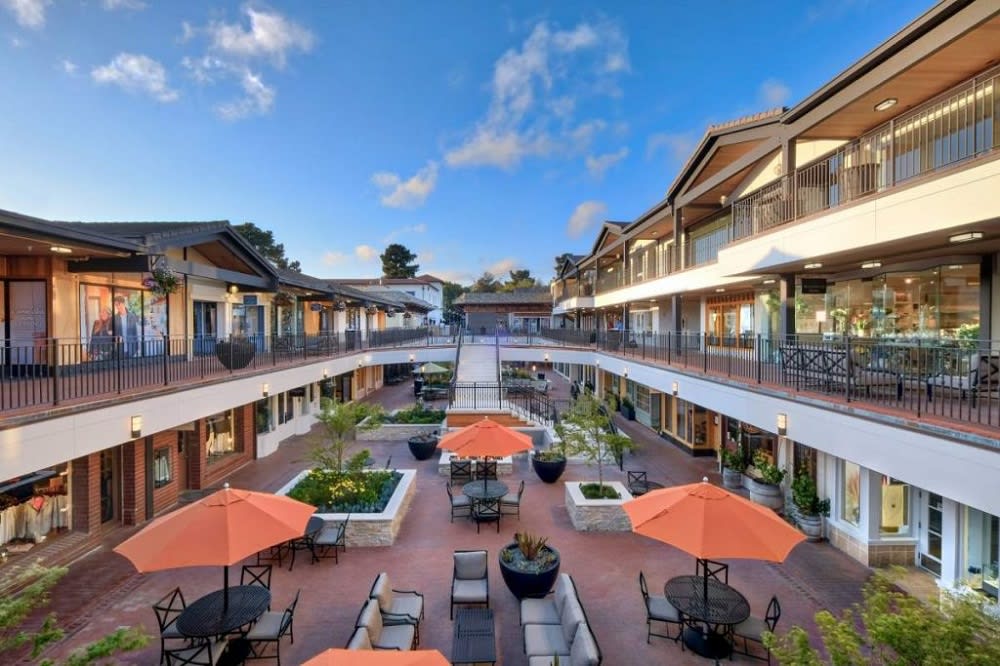 Photo Courtesy of Carmel Plaza
When you're looking to invest in homes for sale in Carmel, know that all the best shops in the village are on Ocean Avenue. Start at Junipero Street and work your way west to explore all that the village has to offer. Cozy Dutch and Tudor cottages give the entire main street a warm, fairytale feel.
As you head down the avenue,
Carmel Plaza
is a one-stop shop for dining, retail boutiques, and novelty gifts. Those who own Carmel real estate can visit stores like Cole Haan, Kate Spade, and Tiffany & Co. To find inspiration for how to decorate your new home in Carmel, visit the Arhaus Studio Design Studio and Monterey Design Center, or find your furnishings at Beachwood Home and
House of Cardoon
. Clothes for the kids can be found at Janie and Jack or Vineyard Vines, and
Land & Sea Golf
is the place to go for all things outdoor recreation. With a relaxed atmosphere, Carmel Plaza makes shopping even more enjoyable with places to pause and try new wines from regional vineyards or sit for a well-deserved beauty treatment. On occasion, the plaza also features live music and community events like farmers' markets and fashion shows. It's truly the heart of Carmel and can't be beaten.
Homes for sale in Carmel are also close to the Mole Hole, a fun gift shop with seasonal treasures hand-picked for visitors and residents alike. One block north of Ocean Ave is
Augustina's
, a local favorite for designer clothing, jewelry, and accessories. Located at the corner of San Carlos and 6th, Augustina's is celebrated for its stunning, high-end pieces. Find your next pair of Jimmy Choos or a new top by Ralph Lauren at this all-in-one designer shop.
For shops with a mix of clothing, jewelry, and art, try Jolie, Sylvie Unique Boutique, and Ms. Fabulous. Johnny Was and Brochu Walker specialize in women's fashions, while the Pleasure of Writing is a cute stationery boutique. Brides-to-be can find their perfect dress at
Epiphany
on Mission Street, and men can stop in for a new suit or accessories at
Khaki's of Carmel
and the Club.
Finally,
the Crossroads Carmel
on Rio Road is another option for those wanting a mix of services, dining, and shopping. Beautiful pieces by Armani and Rubinacci are at Debra C, or you can pick up your next statement necklace at European Jewelers. Home by the Hearth is perfect for seasonal decorations, and River House Books is a quaint independent bookstore with a varied selection.
Carmel's restaurants, cafes, and wineries
A bounty of upscale restaurants, charming cafes, and exquisite wineries are only minutes from homes for sale in Carmel. After a day of retail therapy at the Carmel Plaza, be sure to stop in at one of its many fantastic eateries. The best French bites are at the Patisserie Boissiere, where patrons can enjoy coffee and pastries for a mid-morning pick-me-up or dine in the evening on French fare and wine. The beef bourguignon and baked brie are just two of the many choices that keep locals coming back for more.
With a cozy, ocean-themed dining room,
Catch
is easily one of Carmel's best spots for fresh seafood. Certain appetizers come with caviar and champagne to start the night off on the best foot. Carmel locals rave about the lobster tails, calamari steak, and shrimp.
As the name implies,
Casanova
is the perfect restaurant for a romantic date night, mixing French and Italian flavors in popular dishes like the potato croquettes and the calamari fritti. Casanova's claim to fame is that they own the same table Van Gogh used to frequent at the Auberge Ravoux Inn in France.
Additionally,
Vesuvio Restaurant
is a traditional Italian joint with a lovely rooftop terrace, while
Aubergine
takes elegance to the next level as one of the most sophisticated restaurants in town, specializing in New American fare.
In true California fashion, Carmel also has 13 different wine rooms to explore. The
Galante Vineyards Tasting Room
has a down-to-earth, country feel, boasting a selection of classic American wines. Galante is known for their Cab Sav and also offers wines ranging from Pinot Noirs to Malbecs to Viogniers. For a sophisticated night out, there's also
Caraccioli Cellars
, which provides 45-minute tastings that include five wines from their award-winning collection. Those who are shopping for Carmel real estate and love a good Pinot Noir should make sure to visit the
Blair Wines Estate Tasting Room
or their sister room in the Carmel Plaza.
Carmel has so many one-off shops and designer options to explore. With shopping plazas and top-tier restaurants steps from the village's main street, living in Carmel has its advantages. But finding the right place to call home is the first step to making your dream of living in Carmel a reality. Only a professional realtor can help you find the perfect spot, and Cheryl Heyermann of
the Heyermann Group
has been serving the Carmel community for decades. As a resident of the village herself, Cheryl is passionate about helping clients find exactly what they're looking for.
So if you're ready to start shopping for Carmel real estate today,
get in touch with Cheryl Heyermann
today. Cheryl's extensive knowledge of the Monterey Peninsula combines her passion and real estate experience that is second to none.