Carmel Valley is packed with a plethora of exciting restaurants, whether you're enjoying a Sunday brunch or celebrating a special occasion over a candlelit dinner. Deciding which one to dine at can be difficult, but don't worry—I'm here to give you the scoop on some of the area's top places to eat. You can find something for everyone, whether you're craving seafood or steak.

Read on to discover my top 12 recommendations for restaurants in downtown Carmel and Carmel Valley.


1. TreeHouse Cafe
In my experience, it's hard to top a dinner by the beach—and you can experience that for yourself at Carmel's very own TreeHouse Cafe. Located beachside, this cozy cafe is all about creating a memorable dining experience. A glance through the menu reveals an assortment of diverse, flavorful, and bold dishes. Plus, you might just want to take a look at the impressive wine selection. This restaurant has plenty of intimate indoor seating. However, I personally recommend the outdoor seating on either the patio or veranda. This will be sure to elevate your night out, and seriously, what's better than a refreshing ocean breeze while you dine? Not to mention the outdoor seating is also pet-friendly so that you can bring your furry four-legged friends along.
2. Casanova
If you're looking to experience an upscale culinary experience, make reservations at Casanova. This sleek European restaurant, located in downtown Carmel, is one of my top recommendations. The menu specializes in French and Italian fare and includes an assortment of exciting staples. Choose the linguini or opt for the steak au poivre. To complement your dinner, order some wine by the glass. The wine list features wines from across the globe. If you're craving a little something sweet after dinner, I suggest ordering the Basque cheesecake or the chocolate tart. Plus, the outdoor patio was once frequented by Van Gogh, so you can experience a slice of history while dining here, too!
3. Village Corner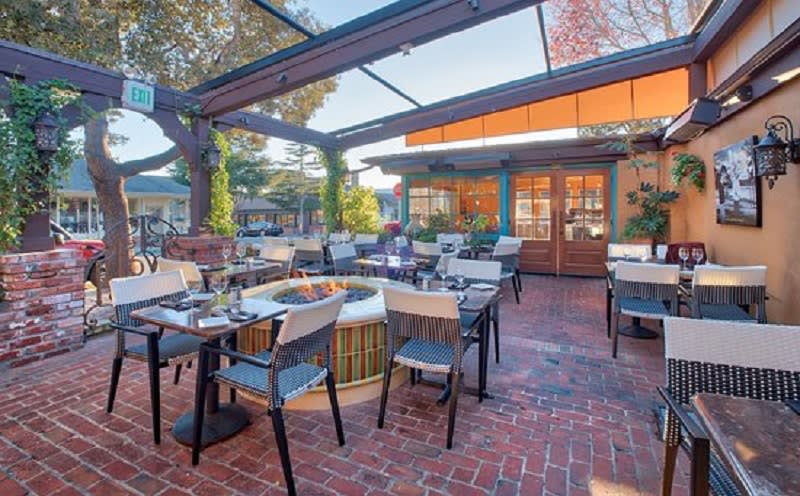 While traveling to the Mediterranean might not be in the cards at the moment, don't worry—I have a place in mind that is sure to transport you to the beaches of Santorini. Village Corner has been a part of the Carmel community since it was first established in 1948. This long-time bistro serves Mediterranean-inspired cuisine in a casual atmosphere with a charming patio. Locals and travelers have been frequenting this spot for decades, and after one meal here, you might just become the next regular. Plus, weekend brunch here is an experience you don't want to miss.
4. Anton and Michael
Since its first opening in 1980, Anton and Michael has been a well-loved staple of the community. I suggest it for a date night or any other special occasion. Here you will find an innovative menu that includes a variety of mouthwatering dishes. The menu features decadent dishes, such as the seared Idaho rainbow trout or the seafood fricassee. Choose to dine indoors on the classic and elegant tables or outdoors on the inviting patio. With fireplaces, fountains, and candlelight, Anton and Micahel is a great way to celebrate a special occasion.
5. Grasings
Food is a form of art at Grasings. This storied eatery, located on the corner of Mission and 6th Avenue, is beloved by Carmel residents and visitors alike. With so much to choose from, it's not hard to understand why. Grasings specializes in locally sourced California cuisine, as well as an impressive wine list and cocktail selection. In my experience, they're some of the best cocktails in town. Here you can enjoy the fresh New American fare on the outdoor patio, and you can even bring your dogs along for dinner!
6. Forge in the Forest
With lush gardens and firepits, Forge in the Forest might just make you feel like you're in a storybook. This charming restaurant has been a part of the community since it first opened its doors to the public in 1944. Since then, they have become passionate about cultivating whimsical dishes using the freshest ingredients. I would recommend booking a reservation in advance, as this place fills up quickly. Be sure to request patio seating if the weather permits. Dining here is nothing short of a magical experience!
7. La Bicyclette
Food nourishes the body and the soul, and you can experience that at La Bicyclette. Located on Dolores Street and 7th Avenue, this quaint shop serves hand-crafted European country cuisine. Aiming to please, they use local ingredients and old-world artistry. The food is simple, but the flavors and cooking techniques are creative. The menu is updated weekly to make most of the freshest local ingredients. Regardless of what you choose to order, from pizzas to seafood dishes to charcuterie boards, you'll be in for a pleasant surprise here.
8. Dametra Cafe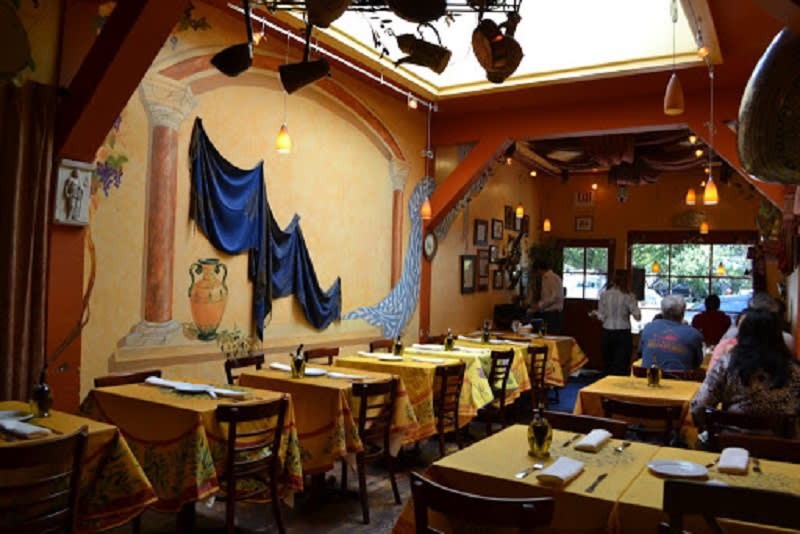 If you're looking for somewhere to grab a casual yet delicious lunch, head on over to Dametra Cafe. Nestled on the corner of Ocean and Lincoln, this charming Danish-styled building is instantly recognizable. Inside the bustling cafe, a quick scan through the menu will reveal Mediterranean specialties, pizza, and pasta. To start your meal, order some appetizers, such as the spanakopita or dolmas. Regardless of what you choose to order, you'll be impressed with the attentive staff members, mouthwatering dishes, and cozy environment. Be prepared for a bit of a wait, though, because this place is often packed! You'll be sure to leave feeling full and happy!
9. Pangaea Grill
Whether you're craving steak or seafood, you can find that and more at Pangaea Grill. Located on the north side of Ocean Avenue between Lincoln Street and Dolores Street, Pangaea Grill is one of Carmel's newest restaurants. They feature top-notch cuisine and a menu that expertly brings together the flavors of the east and west. Here you can find familiar dishes such as the calamari starter and filet mignon—both are well executed. However, the restaurant's most popular dishes include Korean short ribs and tangy kimchi fried rice. Once you've tried a bite of these, you'll understand why these are the most ordered items on the menu. Plus, the intimate and welcoming dining area will make your experience at Pangaea Grill just that much better.
10. Mission Bistro
Located in the heart of Carmel-by-the-Sea, Mission Bistro is a spot you won't regret making dinner plants for. Needless to say, if you're going out for a special occasion or even just enjoying a regular Tuesday night (there's no shame in that—you deserve a break!) I recommend looking into all this special place has to offer. The menu includes dish selections from New American, Italian, Mediterranean, and Thai cuisines, so there's something for everyone. Plus, the wine list features a variety of local wines and an impressive selection of regional wines. Mission Bistro is open every day for both lunch and dinner. If you have a private party, you can rent a private room to enhance your dining experience. Otherwise, you can choose to dine in the main dining area or the outdoor patio. Stop by and see what all the hype is about!
11. Flying Fish Grill
Eating at the Flying Fish Grill is the very definition of a fine dining experience. You can find this upscale eatery on Mission Street, between Ocean and 7th Avenue. The Flying Fish Grill describes itself as "casually exquisite dining," and I couldn't agree more. With an East/West fusion, this delightful restaurant has plenty of distinctive offerings that are sure to dazzle any seafood lover. Some of the most popular items here include the salmon, lobster, abalone, and clay pots bursting with noodles, broth, and seafood, beef, and vegetables.
12. Brophy's Tavern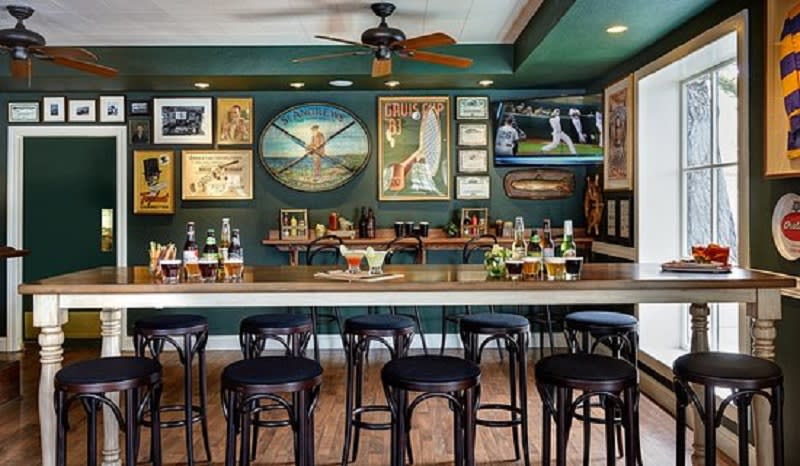 I know seafood isn't for everyone, so if that's you, make your way over to Brophy's Tavern. Located downtown, this eclectic spot is a popular Irish pub and sports bar. Here you'll find hand-crafted cocktails, cold draft beer, and of course, the most delicious pub fare in all of Carmel. Plus, the seven large television screens make this a great choice if you're hoping to catch the game. Open until 10 PM, Brophy's Tavern is there for all your late-night hangs.

If you want more opportunities to dine at the bountiful array of restaurants in Carmel and Carmel Valley, you'll need a home in the neighborhood. Lucky for you, I am an expert in Carmel luxury real estate, and the Heyermann Group has years of experience navigating the real estate industry. Whether you are looking for your dream home or vacation home, we're ready to help you find the perfect place.