So you're looking to buy Carmel real estate to put down roots for your family, steadily narrowing down all your options, but you still don't know what to do with your brand-new kitchen! It's no secret that the kitchen is the heart of your home, and the perfect space makes for intimate family dinners and memorable gatherings during the holidays.

Kitchens act as a communal space throughout the day; whether it's hurried breakfasts with your partner before work, big weekend lunches with friends, or after-school study sessions, this space encapsulates the rhythm and routine of our daily lives. Staying up-to-date on the trends that make your kitchen beautiful and functional with an elevated taste allows you to make the most of this versatile space. And with all the future dinner parties and chic wine tastings you will soon be hosting in your new Carmel home, here are just a few trends you need to try to create a gorgeous kitchen.
Kitchen trends to try in your Carmel real estate
Create style-forward storage
The way people live in and decorate their homes has changed drastically throughout the last few years. Many trends have evolved toward stylish solutions that still operate as part of the decor. Some features that have also been rising in popularity are
built-in cutting boards
and sleek
under-the-sink drawers
that offer a functional flair to complement your kitchen.

Consider installing a mini pull-out spice pantry in your base cabinets to provide easy access and visibility for all your commonly-used kitchen spices and essential cooking ingredients. When drawers, cabinets, and pantries are organized in a style-forward manner, your kitchen can be fully functional and space-efficient without compromising your chosen aesthetic. Modern designers focus their efforts on creating rooms that inhabit both functionality and artistic beauty, providing the occasional cook and home chefs with kitchens they love.
Add custom organization
When determining an organization system for your kitchen, there is no shortage of online experts with tips on how homeowners can best re-organize a room in a style-forward way. The way your home is organized will determine the house's overarching tone and atmosphere. Style is the first aspect your guests will notice in your new downtown Carmel home, and some of the best organization methods are those that blend seamlessly into your decor.

Think about the organization of your charcuterie boards — take your uniquely-shaped boards from under the cabinet (the more varying shades of natural wood present, the better), and display them hanging off a delicate iron railing in your kitchen. Imbue even more charm by placing a chic flower bunch or two sprinkled throughout the levels of the iron bars. This simple way of showcasing your charcuterie boards creates a beautifully balanced yet practical piece of wall art in your Carmel home with a timeless wooded effect.
Implement pops of color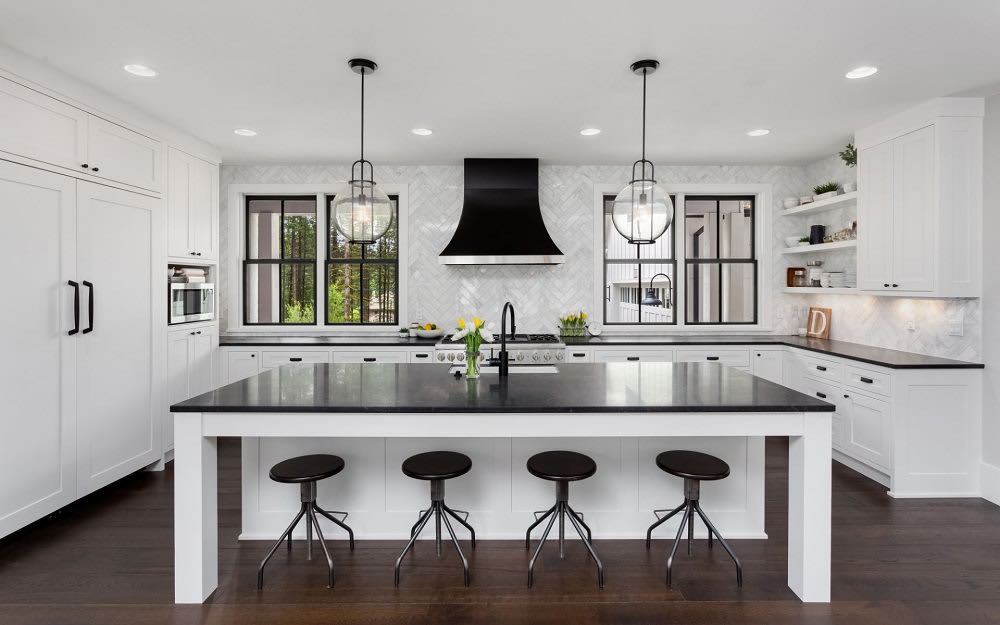 If there is one feature that could rival the importance of the countertop material you choose, it is the color of your kitchen. Your kitchen color immediately affects the tone of the space. A neutral color, such as a white kitchen, will always remain a classic look. But this year is seeing a rise in the use of color, especially more earth tones.
Earth Green is the color that
67% of interior design experts
have agreed will be the most significant trend for cabinets in the coming years. Houses have already seen an increase in the eclectic, moody hues present in hundreds of kitchens on Pinterest and Instagram throughout the last few years. Around
50% of the same
experts have also agreed that darker hues, such as deep navy hues and even black, will be popular go-to colors that many homeowners choose for their kitchen cabinets as the year goes on. Use the selected color in your kitchen to immerse you and your guests in a vibrant yet lively atmosphere or as eye-catching details to accent the primary color, adding even more character to your kitchen.
Your intentional use of color in the kitchen will lend to the overall mood of the space. Always use the color that you feel pairs best with your home and complements the overall tone you want your kitchen to set, rather than chasing trends. Ask your
expert real estate agent
about the colors they have been seeing inside Carmel real estate kitchens the next time you schedule a viewing with them!
Include more natural materials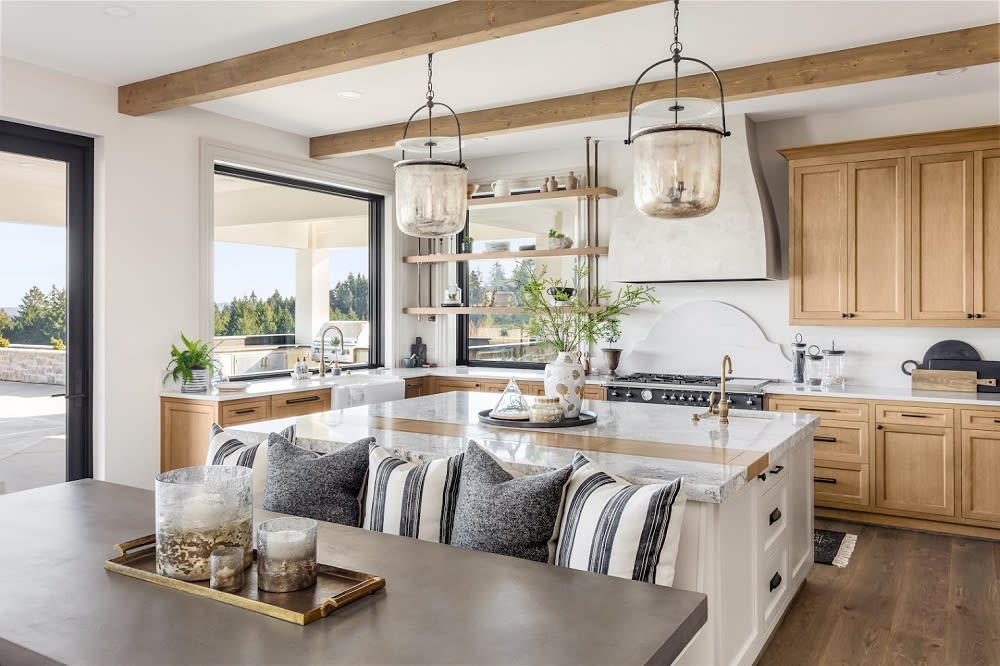 Wood is about to make a massive comeback in kitchens; design enthusiasts expect to see incorporated elements like exposed wood beams and reclaimed wood tables as islands. Homeowners are taking inspiration from designers, especially focusing on natural elements that have increased in popularity over the past couple of years.

Interior designers say that although lighter white oak is still beautiful, we often see deeper, rich wood tones in kitchens. But, if you are hesitant about adding those deeper wood tones, incorporating a single accent piece to a portion of the room can deliver the same warmth and comfort to your kitchen.
Stone is another natural material that can add personality and act as a statement piece in your kitchen. Your countertops will be the show-stopper of your new Carmel home beyond any choice of bold cabinet colors.
Houzz's Kitchen Trends of 2022
study recently found that over one-third of homeowners decided to spend more on their countertops, with buyers splurging on two of the most popular materials: quartz and granite.
Ready to list your Carmel home for sale?
If you've already implemented some of these trends and are ready to list your home, reach out to trusted local agent
Cheryl Heyermann
for professional guidance. Cheryl and her team of experts will help you navigate the newest real estate trends and transform your living space into a show-stopping room that allows you to sell your home for the top price.