Carmel-by-the-Sea is a wealthy, quaint, beachside town in California, known for its natural beauty and charming downtown. It's a popular retirement and vacation destination that's world-famous, with golfers who relish visiting the area for its multitude of courses and clubs. Golf lovers old and young can appreciate the opportunity to play a few rounds against this idyllic coastal backdrop. Below are just a few of the most popular attractions for golfers near Carmel.



Pebble Beach Golf Links
Just a short drive from Carmel is the famous Pebble Beach Golf Links. Built in 1919, this public course is the No. 1 Public Course in the Country, and with good reason. Pebble Beach has hosted six US Opens (more than any other course over the last 50 years) and is set to host several more events. This picturesque course includes greens crafted by the famed golfer and designer Jack Nicklaus. Each hole is uniquely challenging and exciting—and naturally—they each provide a stunning view of the coast.

Pebble Beach Golf Links is an all-inclusive course, providing accommodations for golfers to stay on-site. When you stay at The Lodge, you'll overlook Pebble Beach's famed 18th hole—the site of many historic wins—and have access to amenities like the pool, tennis courts, fitness club, and restaurants. Staying at The Lodge is a true rite of passage for avid golfers and is a great way to kick back and relax after a day of golf. But wherever you are while visiting Pebble Beach, you'll overlook the rocky cliffs and beautiful ocean as you play.
Poppy Hills Golf Course
Poppy Hills is home to the Northern California Golf Association. This hidden gem near Carmel is heralded as "the closest you can get to playing golf in a National Park." The Monterey Pines of the Del Monte forest, coupled with views of glistening Monterey Bay and vibrant poppy fields, make Poppy Hills exceptionally beautiful. The course was extensively renovated in 2013 and was designed with water conservation in mind. Golfers can join the Poppy Hills Club for a small fee and gain access to a tournament schedule, drink specials, exclusive events and discounts, and more.
The Hay
The Hay is another Pebble Beach course in the Del Monte forest. It's a nine-hole short course, redesigned by Tiger Woods in 2021. Woods' goal was to amplify the course's reputation as being a fun place for players of all levels. Woods added an exact replica of Pebble Beach's famed No. 7 hole, and the links are designed to be played with any and all clubs. The Hay also features a 20,000 square foot putting course. Kids 12 years or younger play for free, and the putting course is open to everyone for no cost. The Hay is an ideal spot for beginners and seasoned golfers looking for a leisurely day.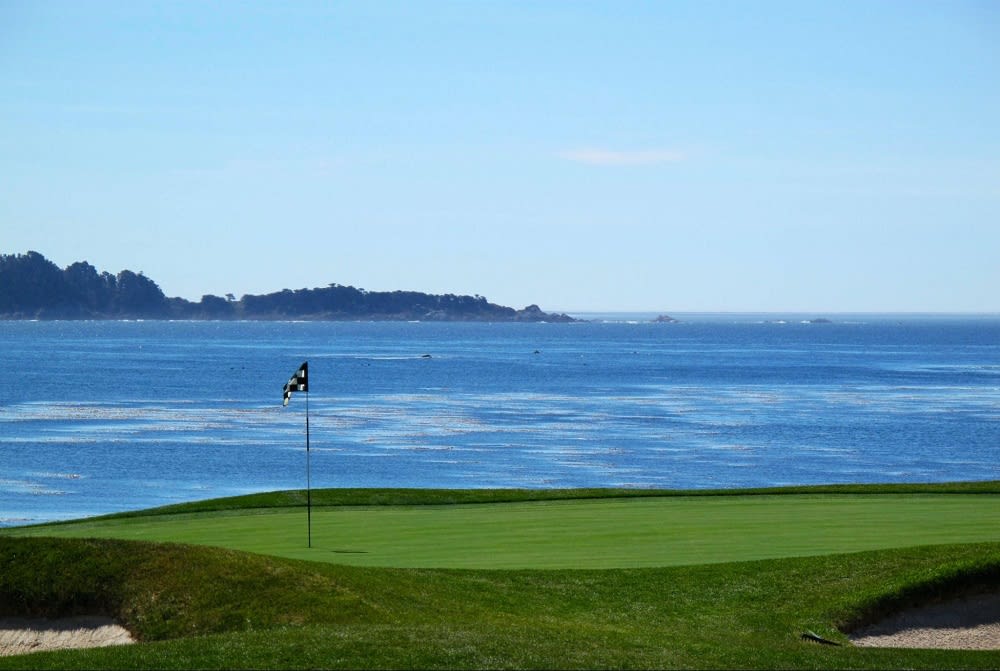 Monterey Peninsula Country Club
Lauded as "The Finest Meeting of Land and Sea," Monterey Peninsula is a private club with a strong history of impeccable golfing. The course boasts two 18-hole courses: the Dunes and Shore courses. Both are rich in history and known for their fantastic layouts. The club is highly exclusive, so you'll need an "in" to apply. For golfers who want a private, coveted experience, this is the place to explore.
Land & Sea Golf
Residents and visitors of Carmel also appreciate its many quality golf shops, which are perfectly suited to cater to golfers of all levels. Located in Carmel Plaza, Land & Sea Golf sells all the best accouterments for an enjoyable day of golfing. They stock the newest, best golfing brands, including Linksoul, Imperial, and Asher. Buy yourself a souvenir cap with Land & Sea's signature pineapple emblem, or pick up the latest issue of The Golfer's Journal. You'll be more than prepared to go play at the area's top courses after a visit to Land & Sea.
Pebble Beach Shops
Pebble Beach has over 20 boutiques to outfit you in the best golf clothing and equipment possible, in whatever fashion you choose. The Pebble Beach Men's and Women's shops offer lifestyle and sportswear from the industry's best brands, as well as off-course accessories, like socks, shoes, leather goods, and more. The Lone Cypress Shop sells a variety of niche apparel items for men and women. Those who are interested in the history of the sport and the courses should visit Golf Links to the Past. This shop stocks a plethora of fun memorabilia, like antique golf balls, vintage putters, and original artwork and photography. This is a great place to find gifts for the golf-lovers in your life.
Links Club
Links Club is an upscale golf and entertainment destination in Carmel, with food, drinks, and activities for true golf lovers. Six high-tech simulators and PXG clubs are at your disposal, so you can practice your strokes and improve your game. You can also play your favorite course (they offer 100 of them) via the simulators, which is a fun way to socialize and compete with friends. After a virtual round, head to the bar and restaurant for fresh foods with clever names, like the "Birdie Bites" and "In the Rough Lettuce Cups." The bar serves craft beers and wines from the Central Coast. Thank to the VIP party room, Links Club is also a great place to host events and parties.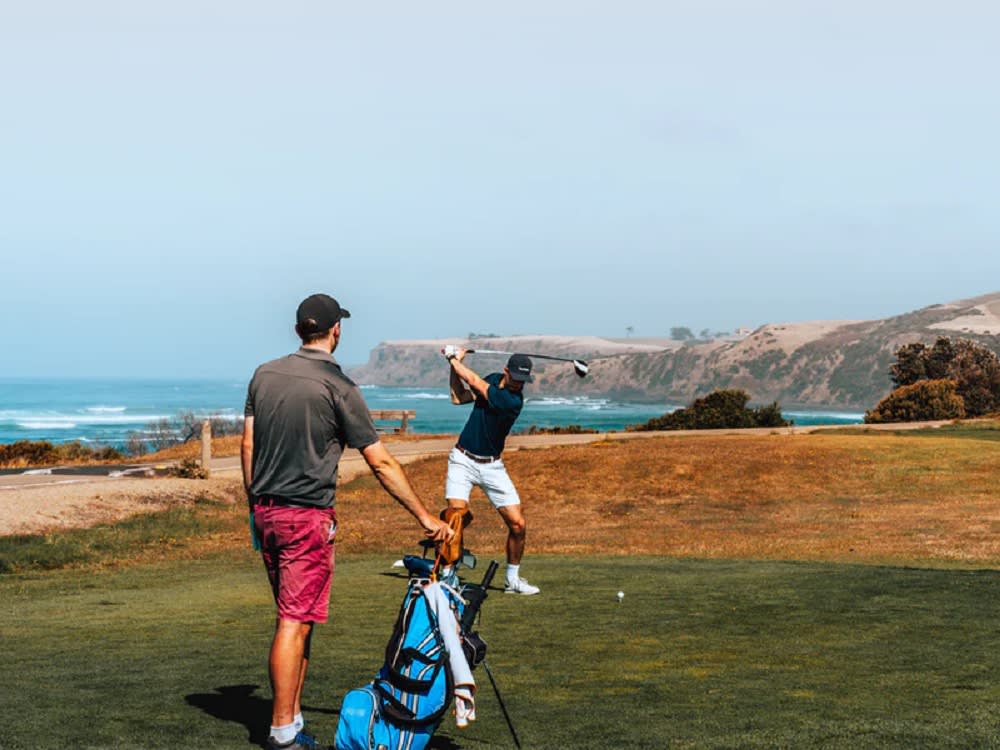 Urban Golf Performance
UGP is the place for golfers to improve their game. Former pro-golfer Mackenzie Todd envisioned using his expertise to help others improve their game, and UGP was born from this inspiration to help others. Todd coaches players in Carmel via specifically designed training programs, and each of his students benefits from fitness training to improve their game. He also coaches players on their recovery regimes, mental coaching, and equipment fitting. This is a very popular spot for serious golfers who want to push past a plateau or come back to the game after an injury. Learn more about the Carmel location's offerings here.

If you're interested in exploring real estate near Carmel-by-the-Sea, contact local real estate experts at Heyermann Group for guidance in finding the home—and golf course—of your dreams.